Mereka bilang analytics
analytics -> data analytics -> big data analytics
Bicara Big data -> data yang sudah tidak mampu lagi dihandle oleh RDBMS…ini adlh ukuran petabyte…giga itu milyar, terra itu trilyun, peta itu ribu-trilyun…selanjutnya adlh exa = juta-trilyun
Ada 4 jenis analytics yg kita kenal: descriptive, diagnostics, predictive, prescriptive
data mining termasuk predictive
decision model dan optimization model masuk prescriptive
Lalu apa beda: data lake, data warehouse dan data mart?
Pertama: ERP apps, komponennya: CRM, HRM, financial accounting (hey fedorova), manufacture (smart factory) and distribution (center), stock and sales figure…ini semua hasilkan data, jk kita sebut data collector, terdiri dari 2-tier: data sources dan data ingestion.
Jk data besar (big data, >RDBMS can handle), storage bisa DW atau DL.
DW itu jadi single source of truth, datanya sudah bersih (cleansed, categorized). sementara di DL, data itu uncurated dan berasal dari berbagai jenis setan, manusia dan binatang. ini adlh playground utk data scientist katanya (kan kerjanya cleansing), not for the faint-hearted, various raw data assets, it isn't a good fit for the average business analytics user…
DW = structured data, DL = structured+semi-structured+unstructured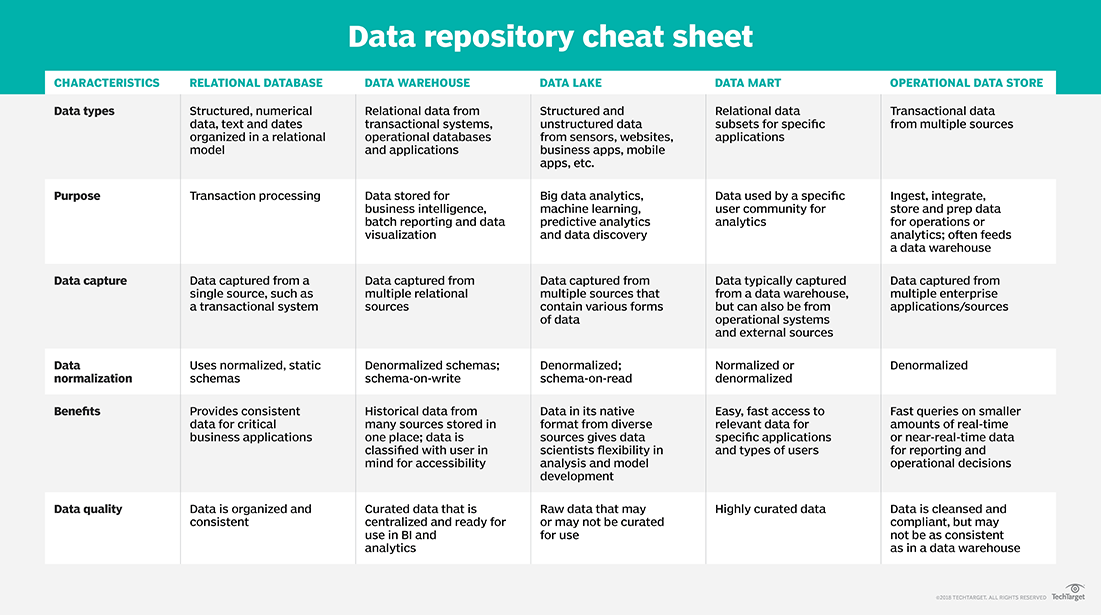 DM adlh subset dari DW…highly curated, specifically targeted users (sales team, dll), use casenya specific misalnya financial analytics. DM max cuma puluhan GB, sedangkan DW dari puluhan GB sampai PB…
Ada juga yg namanya operational data store (stlh mengenal RDBMS, dw, dl, dm) = ODS. ini setara cache utk DW. kita bisa filter data sblm masuk DW, atau kita bisa scrub…tapi sifat ODS adlh transient, temporary…memang bisa query, dll, cocok utk yg stateful, transient data…bukan yg stateless, permanent data (iya gitu???)
RDBMS gak kuat big data dan gak dukung unstructured. DW kuat big data, DL dukung unstructured…just saying…
mari kita cerita hadoop…katanya dia itu sebuah ekosistem, loe punya filesystem (hdfs), kadang DB (hbase), job scheduler (yarn), algo (mapreduce), gimana hive dan pig…aku tau hive cocok utk query (bikin report dan analitik) dan pig utk versi-codingnya…ada juga: impala, kudu, presto, drill, juga yg kita kenal: kafka, spark, flink…
filesystem skrg masih saingan antara hdfs (name-node, data-node) dg cloud storage (s3, azure blob storage, dan cloud storage).
kita kenal LMO+NP
collaboration, communication, coordination
connected, cooperation
kita mau bicara smart factory -> harus kenal dulu smart manufacturing -> ternyata ada standard ISA 95. ternyata ada jg yg namanya digital manufacturing.
bicara smart manufacturing, gak hanya supply chain management (SCM) tapi juga DSN (digital supply network)…ini kita tandai dg 63.5 saja, dimana dwi cahyo = dsn dan novi = scm.
plant = pabrik, plant floor = lantai pabrik, plant floor worker = pekerja lantai pabrik.
kalo orang drugs bilang: evidence-based, orang smart manufacturing/factory bilang: data-driven
bicara factory = production facility. PF ini: highly digitized, highly connected. (kata terpenting dlm smart factory: connectivity, tapi ada juga: autonomy dan visibility = irwan dan malek :).
ingat production: ingat lifecycle: design, engineering, planning, production
ingat facility: payroll feature, payroll facility (plus rostering jd bagian dari HRM)
smart factory katanya punya ability to self-correct, jadi ingat SON: self-organizing network. juga can learn dan can adapt (in near real-time atau in real-time)
mari juga lihat berbagai perbedaan…biar makin incisive
katanya dimulai dari IoT itu apa dan lalu IIoT itu apa…ternyata spt AI-ML-DL, IoT itu 3, dan IIoT itu 2 dari 3 tsb…apa saja
1. efisiensi (produktivitas dan cost), lo bikin apa bisa kita bikin: lebih cepat, lebih murah, dan gunakan lower resources.
2. health and safety
3. better experience (UX??? consumer experience???) -> wearable
masalah IIoT: security dan interoperability (standards, protocols)
emang ada berapa jenis maintenance sih?
predictive maintenance: more sensors, data analytics, ML
scheduled maintenance
beda ini dulu deh:
AR, VR, MR
AR itu namanya juga augmented -> menambah digital elements ke live view: pokemon go, snapchat lenses
VR: complete immersion experience dan shuts out the physical world: Using VR devices such as HTC Vive, Oculus Rift or Google Cardboard, users can be transported into a number of real-world and imagined environments such as the middle of a squawking penguin colony or even the back of a dragon.
In a mixed reality (MR) experience, which combines elements of both AR and VR, real-world and digital objects interact. Mixed reality technology is just now starting to take off with Microsoft's HoloLens one of the most notable early mixed reality apparatuses.
Mau kenal juga economies of scale atau ekonomi skala dimana scale di sini ~ kuantitas.
adlh cost advantages: dg meningkatkan output atau volume produksi maka cost per unit jadi turun…CC memungkinkan ini krn adanya sharing of resources.